Mario Carts Review of 2023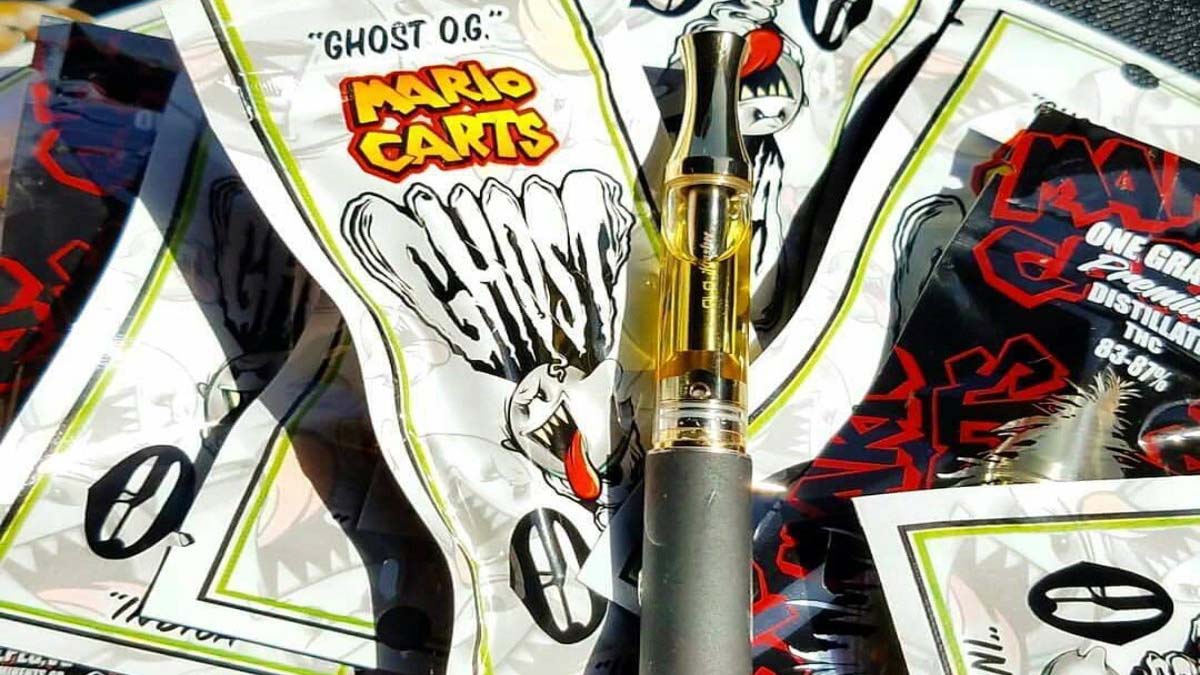 If you had to come up with a brand name that would strike a chord with gen-X'ers, millennials, and even older members of gen-Z, it's hard to imagine a better one than Mario Carts.
The series of Mario Kart games have been around since 1992 and is still being played around the world. Mario, Luigi, Peach, Donkey Kong Jr., Bowser, and their Nintendo friends have been an integral part of growing up for just about everyone in their teens, 20s, 30s, and 40s.
So it certainly makes sense that an enterprising weed company would capitalize on the universally-recognized games to market their vape cartridges. Mario Kart…Mario Carts. Get it?
However, there are a few problems with that approach. In fact, there's a lot wrong with the weed cartridges themselves.
Let's explain.
The Odd Choice of Mario Carts as a Brand Name
To get this out of the way first, Nintendo has never manufactured, endorsed, or sold cannabis cartridges for vape pens. Mario Carts are most definitely not a Nintendo product.
Adding to the picture: the company is famously litigious. It has sued hardware manufacturers, software manufacturers, emulator websites, and even fans who have created games that pay tribute to the Nintendo empire.
(Interestingly, the company's success was jumpstarted in the early 1980s when it won a lawsuit brought against them by Universal Studios, which claimed that Donkey Kong infringed on a supposed trademark for King Kong.)
That background makes it hard to imagine that a reputable company, of any type, would use a Nintendo trademark like Mario Kart to sell weed cartridges.
It's true that the name "Mario Carts" is spelled incorrectly, but even a first-year law student — or someone who's spent any time watching legal dramas on TV — would be fairly confident in saying that the use of "c" instead of "k" would be a lame defense against a trademark infringement case.
So if we've ruled out Nintendo and reputable companies as the people behind Mario Carts, who's left?
The Mysterious Background Behind Mario Carts
Mario Carts have been some of the best-selling weed vape cartridges of the past few years, but no one has ever claimed credit for creating them.
There's no legitimate company name on the packages, just the hashtag @mariocartridges. No company has ever been licensed to produce or sell the brand with any state cannabis agency, and there's no trace of a company named Mario Cart or Mario Carts. (That's probably smart, considering Nintendo's fondness for lawsuits). There's no active mariocart.com or mariocarts.com website, either.
Mario Carts also don't carry state-required stickers with the results of third-party cannabis testing. The packages list purported THC content numbers on the back, but that's not enough to satisfy cannabis regulators in any state.
Even so, there's no question that Mario Carts have been sold online for years, and are even found in some less-reputable dispensaries. Where do they come from?
No one who knows for sure is saying. The best guess, though, is that they're simply a black-market product whose origin can be traced to Chinese manufacturers.
How Do Mario Carts Appear in America?
Most people know that lots of black-market merchandise, from purses to electronics, originates in China.
Counterfeit vape carts are a big business there as well. Major cannabis companies have been forced to add more and more verification systems to their cartridges and vape pens, to allow consumers to check if they're buying real or fake vaping equipment.
The way this black market operates is simple. Manufacturers sell counterfeit branded cartridges and packaging on huge business-to-business websites like DHGate. Middlemen in America (or elsewhere) purchase them in bulk, put their own weed oil into them, and sell them as if they were the real thing.
That brings us to Mario Carts. Even though no legitimate company makes products under that name, B2B websites have long allowed Chinese companies to sell Mario Carts "branded" cartridges and packaging, and you can still find them (and buy them) today.
The rest is easy to figure out. Someone began flooding the market with black-market Mario Carts. Their name, their cute packaging (complete with images of Nintendo characters like Donkey Kong and Boo), and word-of-mouth attracted buyers. And the more popular they got, the more people jumped into the "game" to produce and sell their own Mario Carts.
Since no one knew who was creating and selling the cartridges, there was no one for Nintendo to sue. And Mario Carts joined a long list of other "fake" black-market weed carts like Exotic Carts, Dank and Smart Carts — all of which showed up out of nowhere to become extremely popular on black-market sites.
There are still lots of Mario Carts around today, and they're not particularly expensive. Are they worth buying?
What's In Mario Carts?
Here's the funny thing: even some well-known weed sites reviewed Mario Carts when they first arrived in the market and gave them decent reviews.
The reviews often criticized the fact that some varieties didn't identify the cannabis strain used to make the carts or the fact that the weed oil's actual THC content didn't match package claims. But reviewers generally liked the effects, taste, and aroma.
Over time, however, it became clear that some Mario Carts weren't as innocuous as they seemed. High levels of pesticides and/or heavy metals like lead were detected when their contents were tested — exactly the type of issue that state-mandating testing is designed to detect.
That could mean that whoever began selling Mario Carts filled the cartridges with acceptable-quality weed oil, and later market entrants took advantage of the product's popularity to sell contaminated oil instead. It could mean that some of the carts were bad from the start, but the issues weren't detected immediately.
Either way, it means that Mario Carts are unregulated, illegal products that are potentially hazardous. Even at a "bargain" price, that's really not a bargain that's worth taking, and not one that any cannabis vendor — even in illegal states — should be proud of offering.
Mario Carts: FAQ
Q: If I see Mario Carts sold in a store, does that mean they're safe to purchase?
A: Sadly, there's no way to know whether Mario Carts are safe, no matter where you find them. No regulatory agency has approved them and no one has ever done third-party testing to determine their THC/CBD content or to rule out potentially-hazardous contaminants.
Q: If I decide to give Mario Carts a try, do they fit onto standard vape batteries?
A: Yes, all of the Chinese knockoff and counterfeit cartridges are designed to fit onto standard 510 thread vape pens. Don't be fooled by the fact that they "look" real, though. They'll work fine; the issue is what you might actually be inhaling.